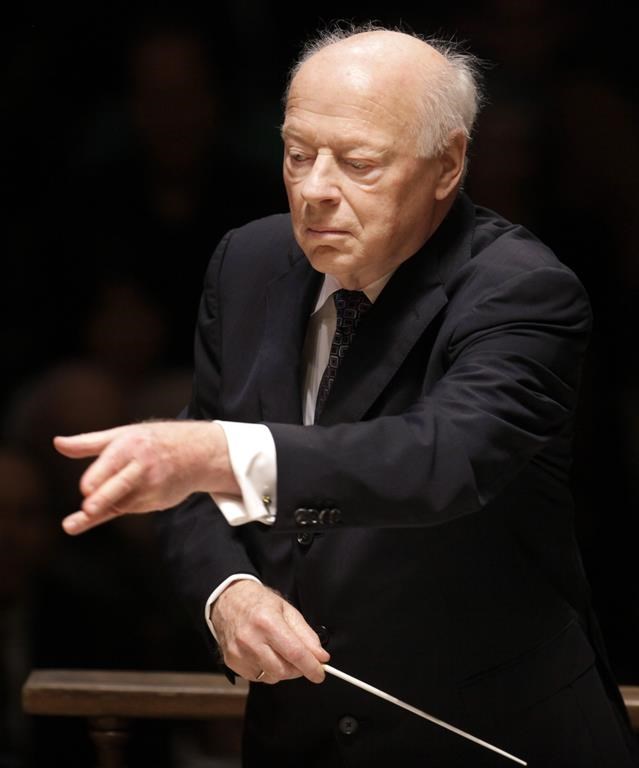 The New York Times reports:
Bernard Haitink, an unaffected maestro who led Amsterdam's Royal Concertgebouw Orchestra for 27 years and was known for presenting powerful readings of the symphonies of Mahler, Bruckner and Beethoven conducting orchestras on both sides of the Atlantic, died on Thursday at his home in London. He was 92.
Here's Beethoven's 7th Symphony conducted by Haitink — the famously moving second movement starts at 13:18:
The Times obit gives a sense of Haitink's personality:
Mr. Haitink let the music emerge from the orchestra, often transcendently, without imposing a heavy-handed interpretation that a star conductor might. His self-effacing nature was noticed early on. He was "not one of the glamour boys on the podium," Harold C. Schonberg, the chief classical music critic for The New York Times, wrote in January 1975 after Mr. Haitink's debut with the New York Philharmonic, conducting Bruckner's Symphony No. 7. "He does not dance, he does not patronize the best tailor on the Continent," Mr. Schonberg continued. "But he is a dedicated musician, always on top of the music, getting exactly what he wants from his players." Reviewing his performance of the same symphony with the Philharmonic in 2011, the critic Steve Smith wrote in The Times: "Some conductors strive for mysticism in late Bruckner; Mr. Haitink, with his unerring sense of shape, transition and flow, lets the music speak for itself, with results that can approach the supernatural and often did here."
Haitink conjures the towering greatness of Brahms's 4th Symphony:
More from the Times:
His reputation for being unassuming trailed him throughout his career. In 1967, Time magazine described him as "a short, quiet man who likes to take long bird-watching rambles in the woods," and pointed out that "in a profession where flamboyance and arrogance are often the hallmarks of talent, the diffident Haitink is an anomaly." A New York Times article in 1976 carried the headline "Why Doesn't Bernard Haitink Act Like a Superstar?" Mr. Haitink's colleagues lauded his modesty, integrity and musicianship when he was awarded the prestigious Gramophone Lifetime Achievement Award in 2015. The pianist Murray Perahia, who recorded the complete Beethoven piano concertos with Mr. Haitink and the Concertgebouw, praised him as being "dedicated to a real collaboration: neither dictating an interpretation, nor slavishly following — but a natural give and take."
Haitink brings Debussy's cinematic La Mer to life:
The Times on how wartime in Haitink's childhood affected him as a conductor:
Bernard Johan Herman Haitink was born on March 4, 1929, into a well-off family in Amsterdam. His father, Willem Haitink, was a civil servant, and his mother, Anna Clara Verschaffelt, worked for the French cultural organization Alliance Française. Neither were musicians. The family lived under Nazi occupation during World War II, and Willem was imprisoned for three months in a concentration camp. Mr. Haitink referred to his youth as his "lazy days." "I wasn't stupid," he explained, "but I just wasn't there. Half the time we were taught under our desks because of air raids. But even when things became normal, I wasn't interested. Maybe this is why now, when I am over 70, that people always ask me why I work so hard."
Shostakovich's merciless 4th Symphony:
The New York Times obit ends with this:
In 2011, in [an] interview with The Guardian, Mr. Haitink mused on the strange life of a conductor. "I have been doing this job for 50 years," he said. "And, you know, it is a profession and it is not a profession. It's very obscure sometimes. What makes a good conductor? What is this thing about charisma? I'm still wondering after all these years."
And here's the last symphony by one of Haitink's signature composers: Bruckner's 9th.